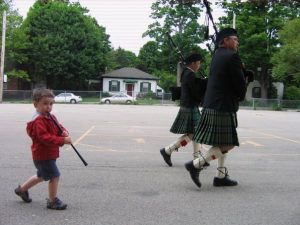 New players begin their bagpipe training using a practice chanter. Students are required to buy their own. Training on the chanter typically lasts around a year while basic music skills, reading music, and fingering technique are learned.
Beginning Piping: 10:00 – 12:00 every Sunday with exceptions for band events and holidays. 
Additional private lessons with instruction from band members, can also be arranged. Fees for these lessons may apply and are solely a matter between the student and the instructor.
Once a student has achieved the required skills, they will be invited to join the band Sundays from 12:00-2:00 and on Wednesdays 7:00-9:00.  At this point they are encouraged to purchase their own set of bagpipes, however the band does have some pipes which are available for loan of up to one year.  Piping supplies are available by mail order from Ben Bhraggie House
Click here for information on Drum Instruction.
Pipe Training and Instruction